ok so it hasn´t exactly been two weeks, but i´m already loving it here.
many of you all have been asking me ¨how is it? do you like it?¨ etc etc
so im going to answer all of those questions finally and post tons of pictures.
btw, i hope a lot of you are reading this since it takes me like over 3 hours to post all of this haha. thankfully, they havent kicked me out of the internet arcade.
my apt is right off the famous street ¨las ramblas.¨its always busy and filled with those people that dress up and ask for change. and there are tons of little critters that you can buy as well. do you know how much restraint it took me to not buy a chipmunk or a lil hedgehog?? theyre adorable but clearly i cant be smuggling pets into france and china. i might get into trouble.
here is a picture of las ramblas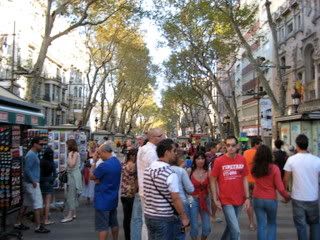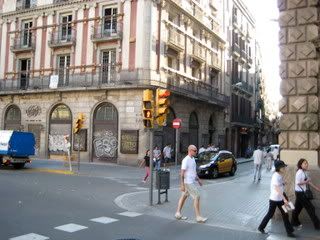 i live with ten people. the roommates change every week which is kind of sad when you get to know someone and they leave the next week. when i got here, there were two german boys so i started learning a bit of german. but they all left this past weekend and this satruday my roommate leaves to go back to japan. her name is miko and im kind of nervous about my new roommate...i hope its someone as chill as he was. ana also lives in our apt, shes the only person in the apt who actually sounds like an american...but shes serbian. i also forgot to mention that im the only american in the house. we have people from serbia, turkey, russia, japan, germany and holland. all of the people from holland live in the other apt that is connected to ours. there are two kitchens, four bathrooms and 6 bedrooms. only one boy lives with us now, so its a full house of girls. our apt is known as the party apt bc people are constantly coming over from school to hang out all night long. the only person that doesnt hang out is our 41 yr old roommate from russia...its kind of weird having someone of that age in a house where the youngest person is barely 18 but whatever. so here are some pictures of my room and apt.
this is the view from my balcony.
this is my bedroom...my half of it.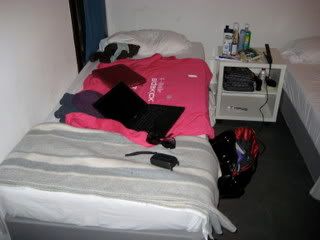 el baño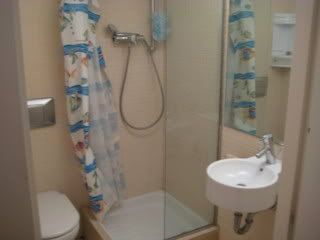 calle comtal-my street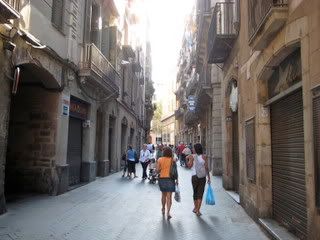 good ol christopher columbus pointing towards the americas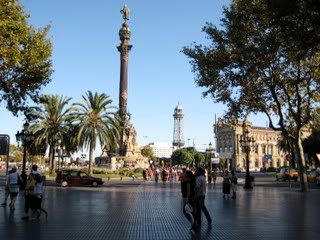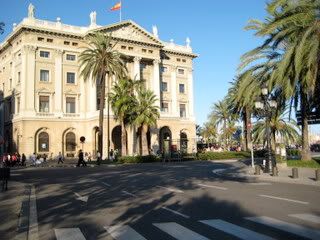 the king of the jungle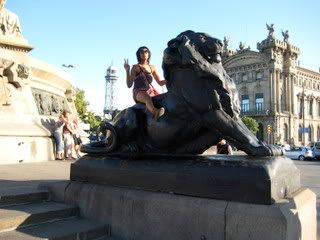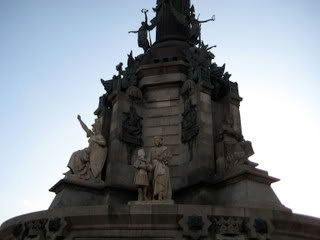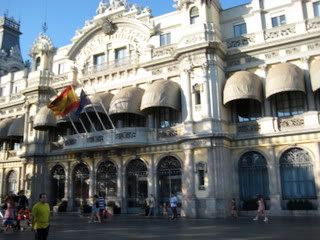 the marina by the beach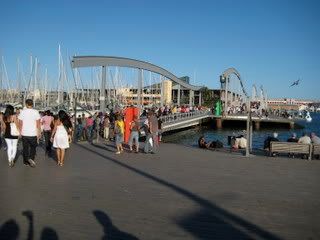 theres definitely a boat out there that has a giant stuffed (taxidermy style) tiger lounging on teh front of it. im trying to hang out with whoever owns that.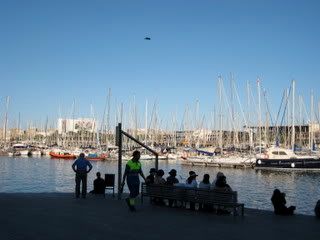 here are some random pictures of my first night in bcn.
juergen and felix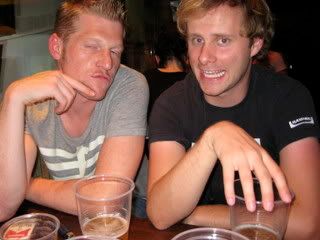 half of my female roommates: nandi, ana, eva and clearly me.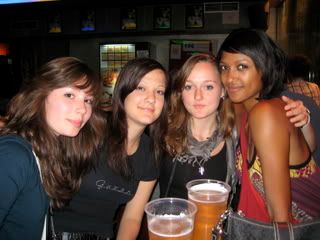 our apt is also very close to the beach. i´d say about 5-10 min walk. but it hasnt been nice enough for the beach this week. we´ve been getting a little rain. so i dont have pictures ofthe beach yet but i swear im going soon.
we´re in walking distance of pretty much everything so i havent had to take the metro yet. but here are some pictures of the arc de triomf and some other amazing parks nearby.
arc de triomf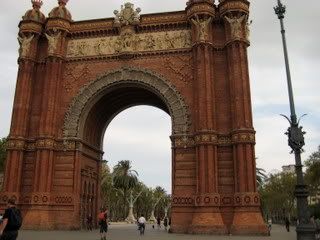 passiog lluis companys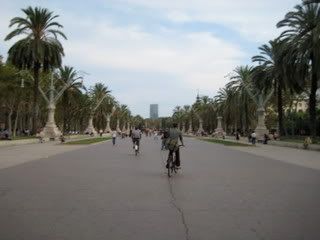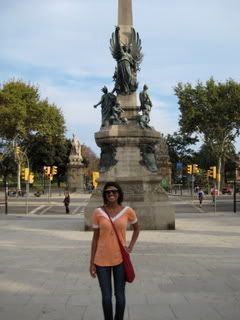 these are the bikes you can rent all over the city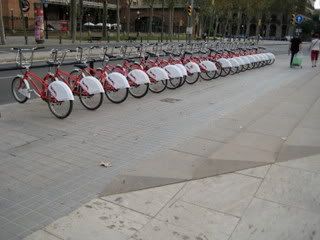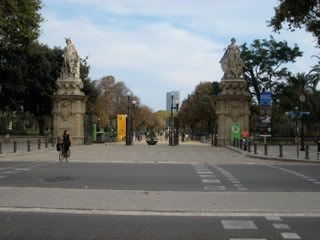 natural zoo history museum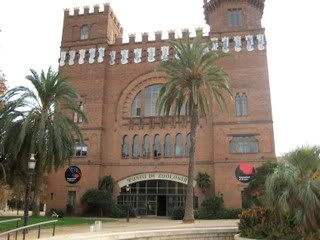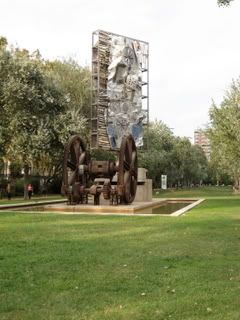 idk what theyre building, but i know its going to be amazing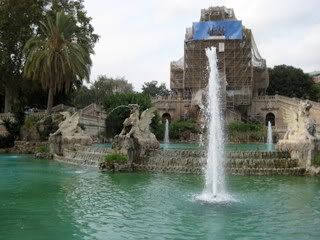 ¨mamut¨photoshoot haha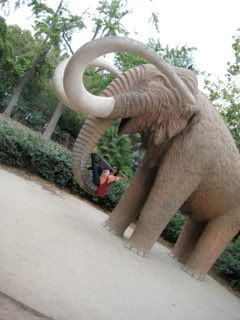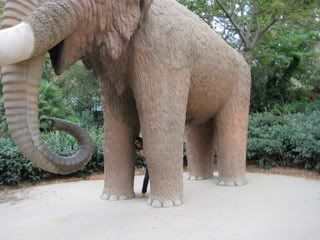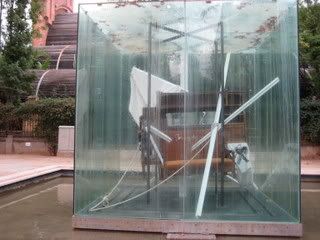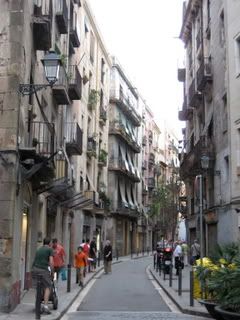 ana and me in the bike cab
im also in walking distance of my school which is great considering i leave for class 10 min before it starts. classes are really easy. there is never any homework, tests and they dont care about absences so some people have only been to class a couple times in their stay of three months haha. every few weeks they test you with a conversation and see if youre ready to move up a level so my first ëxam¨is tomorrow to see if im ready for level intermediate b1...ooooh fancy.
so we´ve been going out to clubs at night and i must say that i dont really like it haha. the roommates all go out a couple nights a week to these clubs that are right on the beach. theyre all like marquee (on a night when nick and atom arent there) like super cheesy tacky people. and i mean that in an open shirt-collar popped-gel in hair-ooh look at me i bought a bottle¨sort of way.¨so im not exactly enjoying that crowd. or house music. i cant stand techno and house music. its excruciating. and people stay out soo late here. literally until like 7 or 8am and no one is weird about it. the streets are bustling with drunks when im waking up for class. its crazy. i dont have it in me to rage like that..psh im all about sleeping haha. but im hoping to find parties that are more conducive to closed shirt wearing rock and roll listening folks haha. geordon is here so he´s supposed to take me to those places this week. here are some pictures from a night out with everyone. ana and i ended up taking a bike cab home since we couldnt find a regular one haha. clearly, its awesome.
eva and paulina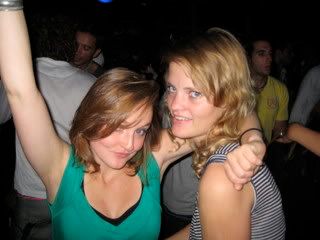 ana and wouter (the only boy in our apt)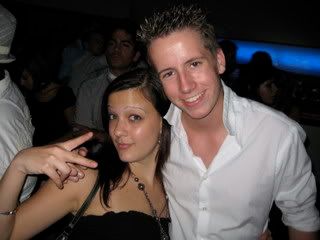 if you´re wondering why im rarely on ichat its because i cant seem to get internet in the apt. so if you want to send me postcards, letters, or anything at all please send them here:
c/o Kendra Larkin
Barcelona Plus
Via Laietana, 15, 1A 2A, E-08003
Barcelona, Spain
i have to pick up all my mail at school. and if you want some postcards or something also let me know. ive already sent out a round of postcards, so check your mail kids.
i think thats everything i want to talk aobut for now. once i get my passport back from the french consulate im going to try to venture out of spain and check out some other countries. and im getting one of these bike rental cards so i can go exploring even more! i´ll keep updating this now that i know where an internet arcade is that has a usb. holler.
love you all and miss you guys! i hope everyone is well and saving some money to come visit me!
kendra