So much has been going on for the past week or so. I keep meaning to blog in a more timely manner i swear. the weekend before last there was an extreme sports festival in barcelona. it felt like the tony hawk tour all over again. in the best way possible. pedro and his friends took me to the event because they knew some of the skaters and surfers so it was actually a pretty awesome time. there was a giant hill covered in snow that they brought just for the snowboarders and skiiers to be able to show off their tricks. I think that was my favorite part. because seriously, how often do you see snowboard tricks on the beach in the middle of an arena in october...come on. it ruled. and we watched a ton of skating contests. here are some pictures of the event.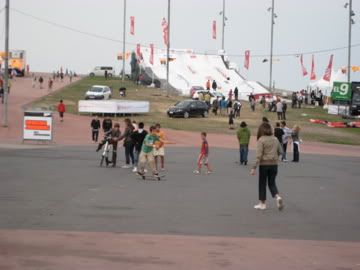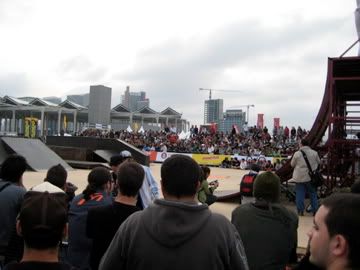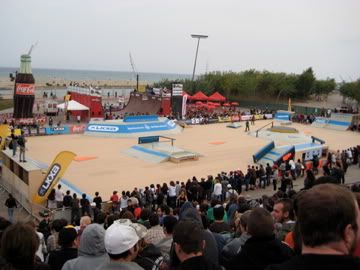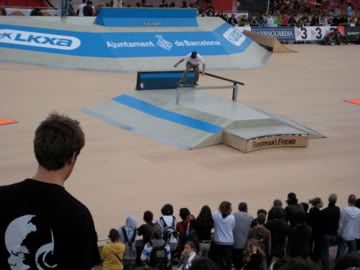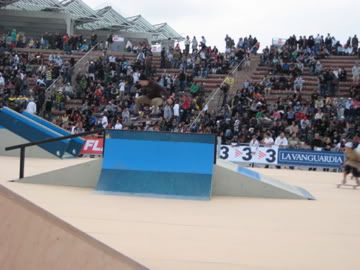 later on in the week, aka last thursday, there was a protest on via laietana. which is the street our school is on. So we had to walk through the protest in order to get home and i was so excited to feel like i was a part of the political struggle haha. ok so not really, but it was fun trying to figure out what everyone was yelling about in spanish. all we could figure out was that it had something to do with the police...as always. here are some pictures of the protest. and there was also some sort of box filled with fireworks that would explode every few minutes and make this loud annoying noise and blow smoke throughout the street...so hi tech i know haha.
angry protestors: pauline, pernille, bart (our new roomate) and wouter (who just moved out. very sad..no more little brother around the house)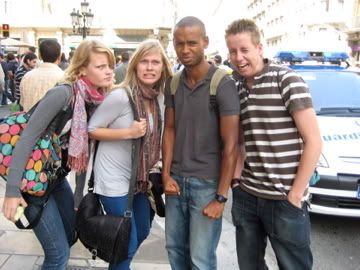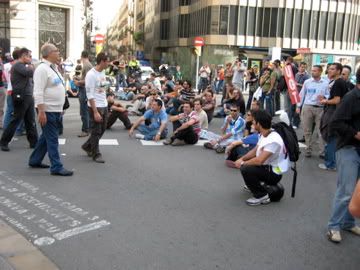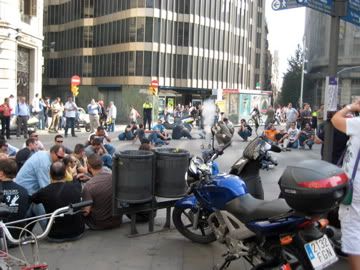 and the most exciting news is how i went to ireland for the weekend. well not really the whole weekend but whatever. i went to go visit andy since i hadn't seen him in way too long. While he was working during the day, I went around Dublin and did the whole nerdy sightseeing thing by myself. i had never been in a foreign country by myself without a purpose of school or something like that. it was actually pretty fun. i went all around Dublin and saw so many amazing things and I even went to the Guinness Brewery and had a beer while i was on the phone with my mom. Hey, at least it didn't feel like i was a total creep drinking alone, since she was on the phone with me haha. After all my sightseeing, my phone ran out of minutes and i realized that i couldnt put more money in it until i was back in bcn so i was in ireland without a phone... thank god for this skype business because it saved my life. after the phone fiasco, i went to meet up with andy. the show was absolutely incredible. ive never seen so many kids sing along to everything haha. their set was great and i took a ton of pictures with my polaroid, digital and fish eye. Spending the weekend in ireland was one of the best times ive had since i left the US. easily top 3. but here are my pictures of ireland and the show. hopefully i'll be able to post videos soon.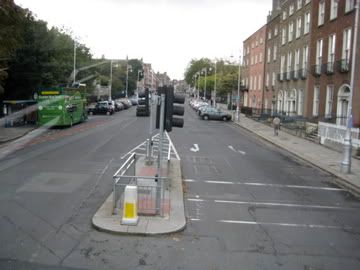 oscar wilde park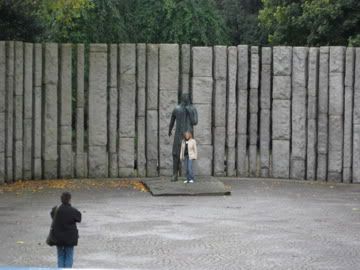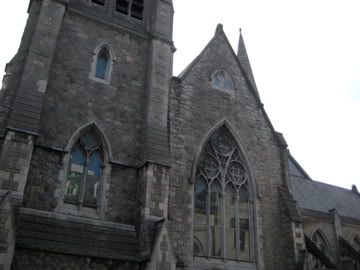 st. paul's cathedral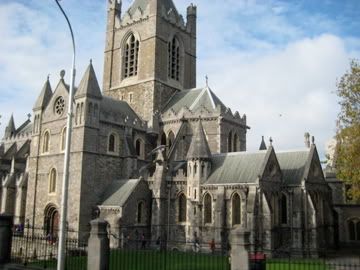 st. paul's cathedral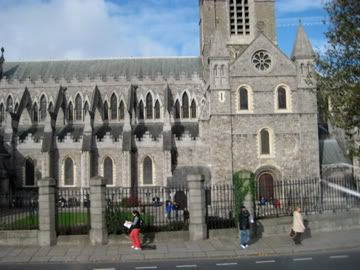 the guinness brewery!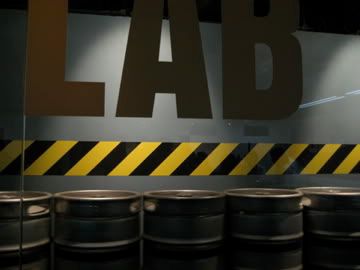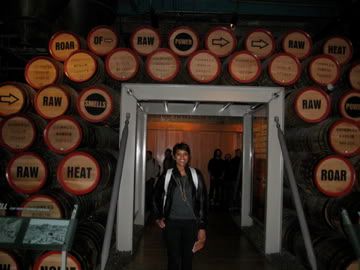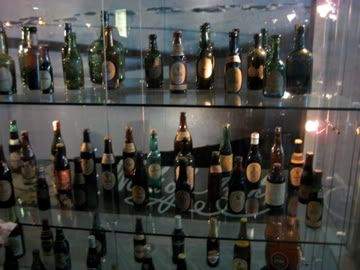 hey look, other native americans like guinness
see, guinness understands true beauty haha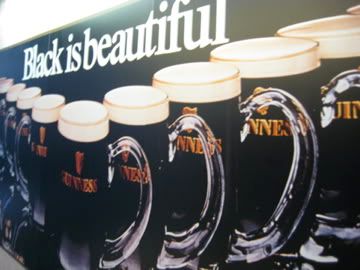 view of dublin from the brewery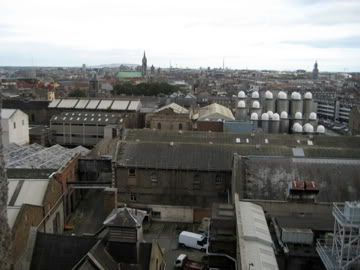 delish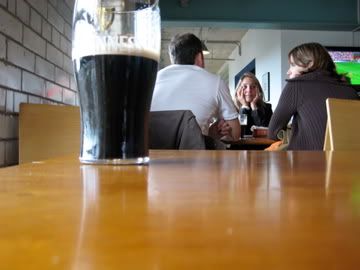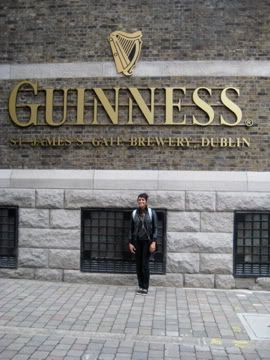 museum of modern art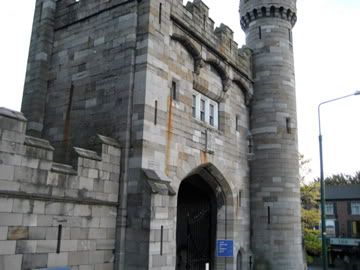 oldest jail in dublin. where they definitely kept a 5 yr old girl for breaking the law..nice one.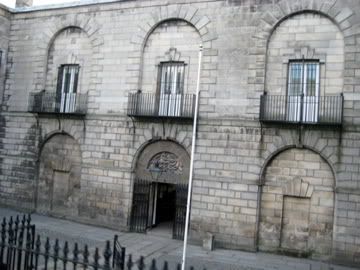 this park is twice the size of central park. insane.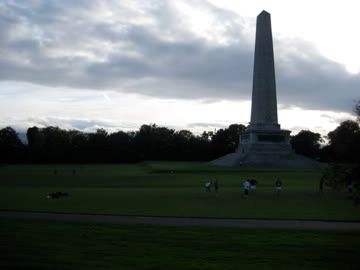 city hall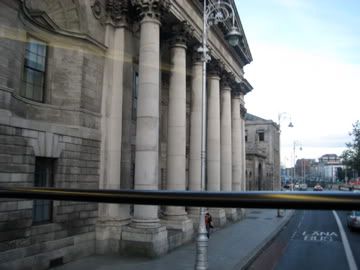 river liffey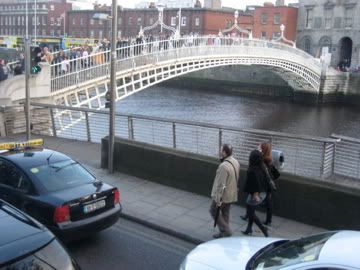 all hail the Larkin family. nbd.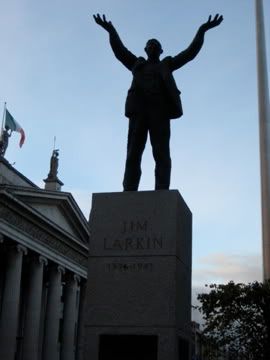 the fob show: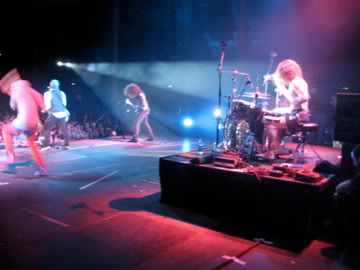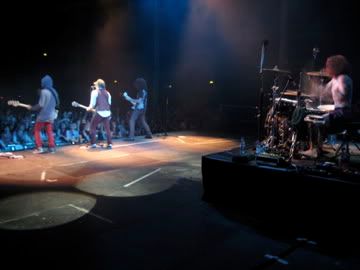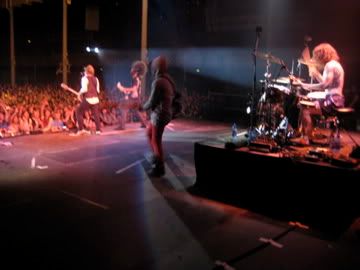 the crowd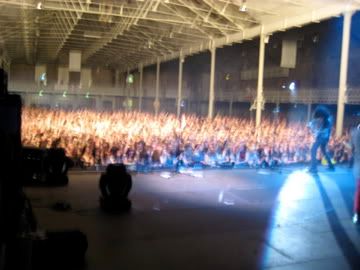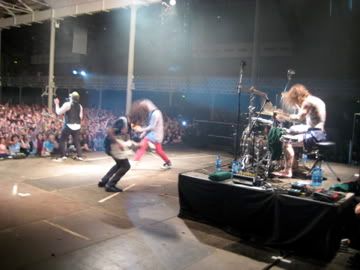 now im back in bcn. back to teaching.. oh idk if i forgot to mention. but im a teacher now. i teach english every mon and wednesday night for a couple hours. i teach adults after theyre off work. its pretty interesting. i love teaching english though. i get to teach spanish people how to speak like californians haha. ohh the power. anyway, im a working girl. making mad bills obviously haha. but im going to liverpool in 3 days to go visit claire. i cant wait to see her. and i cant wait to be in liverpool. i'll let you all know how everything goes.
oh and i have to do a special shout out of love to ALEXIS!! i got a letter in the mail today yesterday from alexis. all the way from canada. thats love. please send me letters, you have no idea how happy it makes me. love you all so much. and if any of you want to send me something im going to post my address one more time.
c/o: Kendra Larkin
Barcelona Plus
Via Laietana 15, 1A 2A 08003
Barcelona, Spain
peace&love.
xo.