i've officially been in beijing for over a week now and i have nothing but great things to say.
the first few days were rough to be honest. after almost 2 years of not speaking mandarin it was hard to get my brain back into it. every time i opened my mouth English or Spanish came out. i couldn't even remember simple words in mandarin. the first day of class was even more difficult because i couldn't remember all of the characters.
but after a week, its almost all come back to me. im able to have a conversation with anyone and everyone. and im learning so much more every day.
the friends i've made here unfortunately don't understand English, so when i say im constantly practicing, im dead serious. in order to have any sort of human communication i have to speak chinese. the girls that work in the downstairs lounge are great helpers as well since they know a few words in english. listening comprehension was always my downfall but after a week im already beginning to separate the heavy beijing accent from the actual words so im understanding people.
i won't lie, everyday is a work day. every sentence is well thought out before it leaves my mouth. but im doing so well after a week that i know after a couple months i'm going to be amazing!
either way, lets get to the pictures.
knowing my luck the day after i arrived it started snowing. of course everyone was excited bc they were going through a drought, but come on...after a month in ca i was getting used to warm weather. we have a gorgeous walk 15 min walk to school every morning and on a snow day the streets are empty so i could take a few pictures.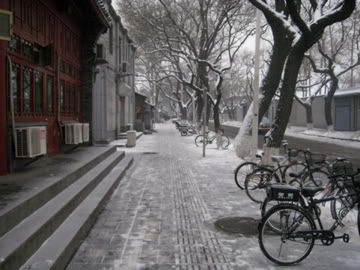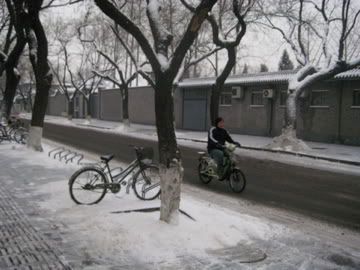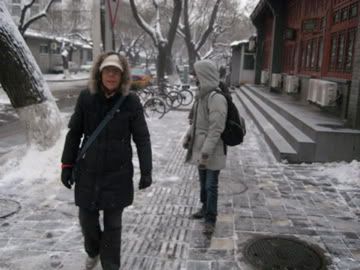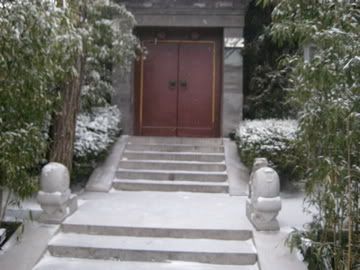 our school is the Working People's Cultural Palace which is literally sharing a wall with the Forbidden City so on our walk we get to see this lake that surrounds the outer walls. its usually frozen these days. but if it wasn't so dangerous and filled with ears of corn, i'd skate on the frozen ice. don't ask me why everyone eats corn on the cob while enjoying an afternoon walk. what an awkward snack.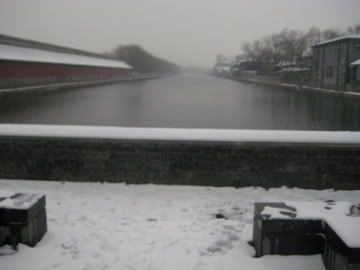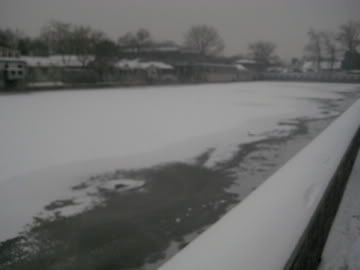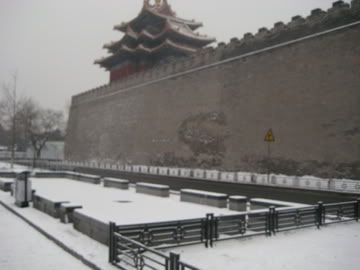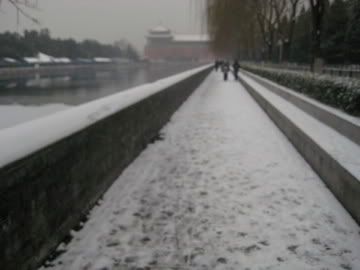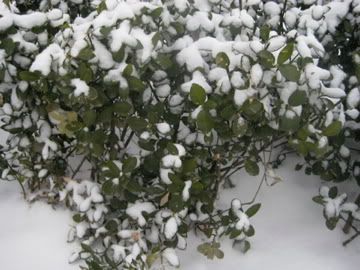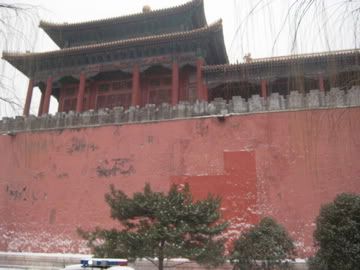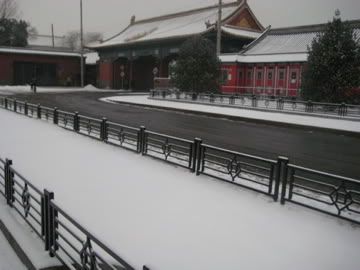 welcome to my school.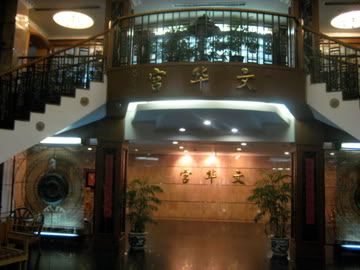 zhe shi wo de laoshi. my teacher.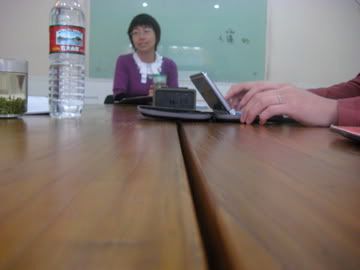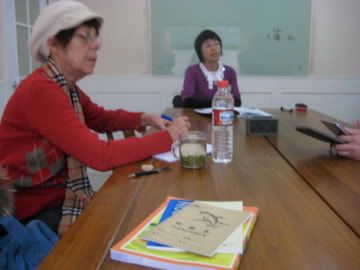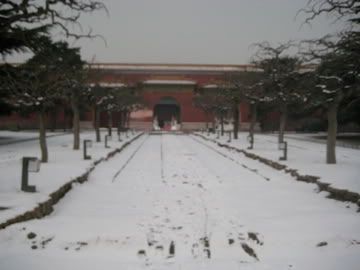 the pictures below are of my new home. nice and small like a studio. ive got my tea pot, beds, tv, closet and all the basic amenities. its meant for two so i'm considering the extra bed a couch. the bathroom is a normal chinese bathroom in the sense that theres no separation between the toilet and the shower. theres simply a drain in the middle of the bathroom. but at least i have a toilet instead of a hole in the ground. the only problem (which i literally just found out a couple nights ago) is that we cant flush anything down the toilet...not even toilet paper. i am no enjoying throwing used toilet paper in the trash can. theres just something too weird about it. but we all adjust, don't we? anyway, all of us students live on the second floor of this hostel so there are foreign travelers coming and going every day but theyre usually on a different floor. the only problem that ive had with my new home is the noise. they are doing construction every day and night so im thankful im a new yorker and can handle noise at all hours haha. i spend most of my time downstairs in the lounge bc theres a restaurant there as well. not to mention they have a variety of instruments so i can play the piano at night when no one else is around and use their tv to watch all of my newly purchased dvds.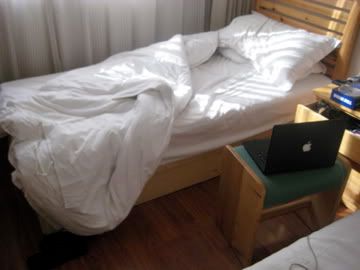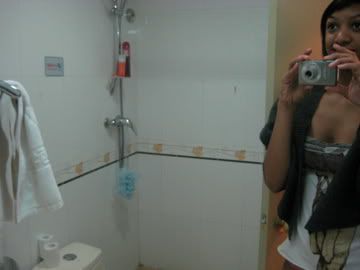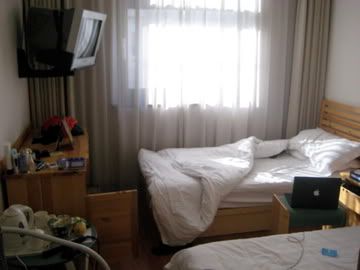 the other day we went out exploring near one of the bar streets. didn't find much, but its always nice to get out of the house.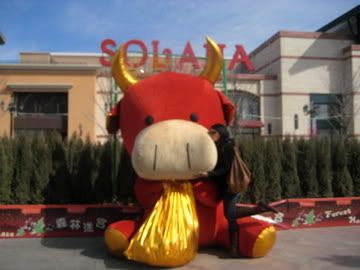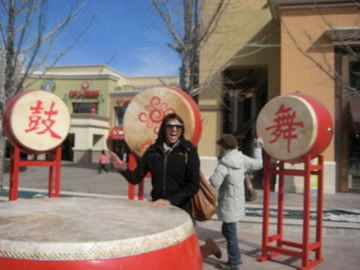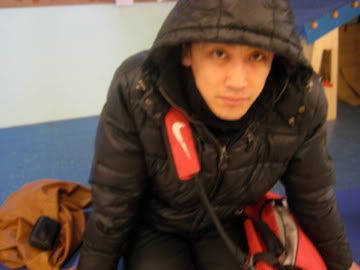 thug version of sex and the city: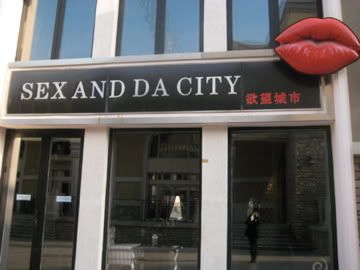 our friend from japan headed back home last night so we got together and had beijing duck for the first time at this fancy restaurant. it was the most delicious meal ive had in a long time. sorry spain, but your food sucks in comparison.
this is ofalia, mikaila & ilaria (right ot left)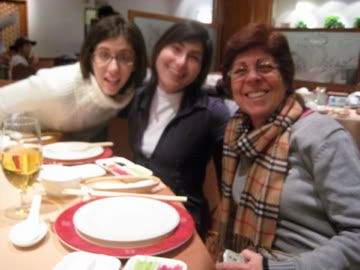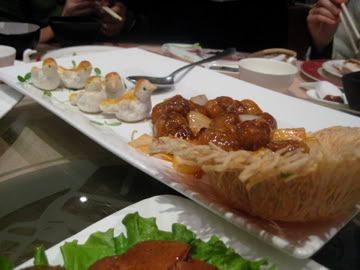 chui & erben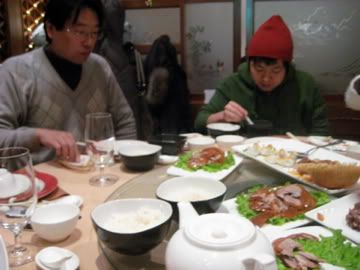 this is eric, the other american. and even better that he's a californian. he's from la, but we cant all be perfect, can we?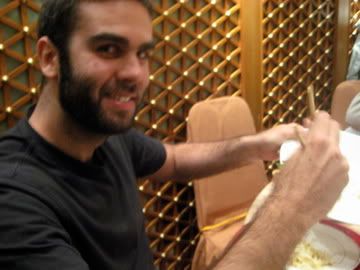 that's all for now friends. this week im actually going to go out and sample the nightlife so more pictures to come. hope you're all doing well back in america. just know im safe and happy. i wouldnt want to be anywhere else in the world right now. expect postcards to be sent out this week. and if you want to send me letters or funny postcards from my favorite cities, please don't hesitate bc you know i love to receive them just as much as i like to send them. here's my address for mail:
Kendra Larkin
c/o: Sprachcaffe Beijing
2612 Wen Hua Gong
Working People's Cultural Palace (Ancestral Temple)
100006 Beijing, P.R. China
love & peace